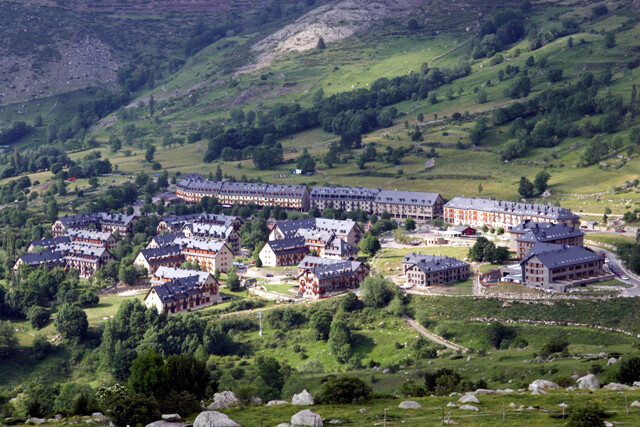 World Retreat 2016 in the Spanish Pyrenees
Course starts
Saturday 16 July 2016, 18:00
Course ends
Saturday 23 July 2016, 14:00
The world retreat will bring together hundreds of Acem meditators from all over the globe for a week of long meditations, guidance, seminars, yoga, mountain walks and social activities. Register and pay for the retreat by clicking "Add to basket" in the right column.
For an alternative way to register and pay, see info below right.
Registration and payment

This is the registration and payment page. Use the "Add to basket" button in the upper right column. For a full presentation of this once-in-a-lifetime experience, go to worldretreat.acem.com.
Rich and varied program
Evening seminars will be led by Dr. Are Holen, who founded Acem 50 years ago in 1966, when he was a student. Other Acem leaders from various countries will be in charge of a number of parallel workshops, talks and other activities from which participants can choose.
Beautiful mountains

The World Retreat 2016 will take place at the Boí Taüll Resort, situated 1600 meters above sea level in the Spanish Pyrenees. The surroundings are exquisitely beautiful, and nearby mountains reach up to 3000 meters. July temperatures in the area are very comfortable. The retreat will fill up the six hotels that together constitute the resort.
Tower of Babel
Evening seminars on the meditation process will be in English with simultaneous translation into Spanish, German and Chinese. The same applies to some of the workshops. There will be guidance groups in English, German, Spanish, Scandinavian and Chinese and basic yoga in English, German, Spanish and Chinese. Bus transportation from Barcelona will be offered.
Course starts
Saturday 16 July 2016, 18:00
Course ends
Saturday 23 July 2016, 14:00
Finished
WORLD RETREAT 2016 WEB PAGES

Important practical information
Student fees are for full-time students and may imply double room or simpler accommodation if the retreat is full.
Alternative registration and payment method
It is also possible to register by sending a message to Acem and paying in euro by international bank transfer to:
● SWIFT/BIC: NDEANOKK
● IBAN NO: NO8060260497238
● Recipient: Acem, Pb 2559 Solli, NO-0202 Oslo, Norway
● Bank: Nordea Bank Norge ASA, Pb 1166 Sentrum, NO-0107 Oslo, Norway
● Include the following information: "WR2016 + name of participant(s)"
● Your registration will be valid upon receipt of your payment.
Course type: Regular Retreat in Acem Meditation
The course is arranged by Acem International School of Meditation
Course number: V16515
Instructors