If you plan to attend an international retreat at Acem Retreat Centre Lundsholm, please read the information below.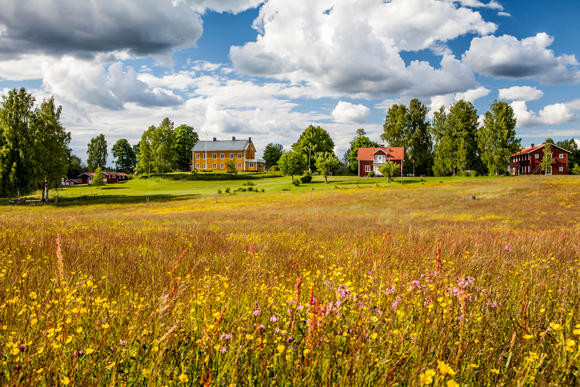 ● Course language ● Course fees ● Registration and payment ● Arrival and departure 
● What to bring ● The retreat centre ● Budget accommodation
Course language
● The official course language is English. 
● Guidance groups and simultaneous translation in other languages may be provided when needed. See each retreat for details.
Course fees
● The course fee includes full board and ensuite accommodation in a single room. 
● The early-bird course fee, when there is one, is only available to participants residing outside Scandinavia, and only before the early-bird fee deadline.
● Student discount is only available to full-time students. Student ID must be shown upon arrival. If the course is fully booked, a student discount may entail accommodation in a double room. 
● If a registration is cancelled before the cancellation deadline, the course fee will be refunded minus an administration fee of EUR 60. If a reservation is cancelled after the cancellation deadline, the course fee will only be refunded if the cancellation is due to illness or other serious reasons.
Registration and payment 
● The course fee must be paid in full before the registration deadline. Please note that the registration is not completed before payment is registered. If the course is fully booked, the participants with the earliest payment date will be prioritized.
● The easiest way to pay is by clicking the "Registration and payment" button on the course presentation page and use your own credit card or PayPal account.
● You can also transmit the fee to Acem's bank account by using swift. Kindly write the course number (can be found on the course page) in the payment information. You will receive a confirmation when your payment has been registered. Please show the payment receipt when you check in at the retreat. 
- Bank name: Nordea Bank Norge ASA
- Bank address: Pb 1166 Sentrum, NO-0107 Oslo, Norway
- Swiftcode/BIC: NDEANOKK
- Country code: NO
- IBAN (account) number: NO 7560260504021
- If you use this manual method, ALWAYS send an e-mail to acem@acem.no notifying your registration, including your name, the price you have paid, and the course number. 
Arrival and departure
Lundsholm is located by the Mangen lake, about half an hour from the town of Arvika in Sweden.
Arriving from anywhere but Norway (plane and train)
If you live far from Lundsholm, you might want to fly part of the way. Be aware that corona restrictions may make transit through Oslo/Norway to and returning from Lundsholm complicated. Read more. Therefore we recommend flying to Göteborg or Stockholm, from where you can travel by train to Edane. Your first stop, however, will be either Kil or Karlstad - check sj.se for schedules.
For those coming from Stockholm or other places, the best stop will be Karlstad. We would advise you to book a flight that allows you to catch the 13.28 train from Stockholm Central Station. Make sure you have time to get to the central station as well.
For those coming by train from Gothenburg, the best stop will be Kil. A flight that allows you to catch the 11.14 train from Göteborg Central Station would be the best, but if that is not possible, the 15.14 train is your latest option. And you of course also have to make sure you get to the central station in time.
For those coming from Copenhagen, you can travel by train as well. Look at sj.se for a ticket to Karlstad.
From both Karlstad and Kil, one can take the local train varmlandstrafik.se to Edane.
If you are not able to book a flight in time for these departures, let send a mail to amaliekkm@gmail.com!
We also recommend booking refundable tickets if possible.
Arriving from Norway (train and bus)
Due to maintenance, you won't find any direct trains from Oslo S to Arvika. We, therefore, recommend travelling to Karlstad (sj.se), from where you will be able to take the local train with varmlandstrafik.se to Edane as described above. 
Transportation from Arvika/Edane to Lundsholm
If you are going to arrive by train and need transportation from the train station to Lundsholm, please let us know - sooner better than later - when and where you will arrive. We prefer to pick you up in Arvika or Edane. 
For the transportation to/from Lundsholm, there will be a fee of SEK/NOK 110 each way from Arvika, and SEK/NOK 110 each way from Edane.
Payment at Lundsholm
You can pay for transportation (or books, if you're interested) by card.
What to bring
● Indoor clothes and shoes/slippers
● Shoes and clothes for outdoor walks, including warm clothes and rain gear (Lundsholm is surrounded by a pleasant terrain for walking)
● Comfortable clothes for the basic yoga instruction arranged during the retreat
● A swimsuit if you like to take a swim (which you probably will)
The retreat centre
● Lundsholm is a non-smoking area and an alcohol-free retreat centre.
● All meals are lacto-vegetarian. 
• There is no coffee at Lundsholm. So if coffee is part of your daily routine, we suggest that you cut down slowly starting a week or two before the retreat to make your first few days at the retreat more comfortable.
● Free wi-fi will usually be available.
● Address: Lundsholms Gård, 671-96 Mangskog Sweden. Telephone number is +46 57 09 12 64. The phone is only infrequently answered, so no messages can be left.
● If you have questions, please contact the Acem office, email: acem@acem.no or telephone +47 23 11 87 00. 
Budget accommodation in Oslo
Cochs Pensjonat
Perminalen
Anker Hotel 
Haraldsheim Youth Hostel
Ellingsens Pensjonat
Comfort Hotel XPress Oslo