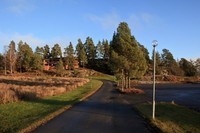 ● Infection prevention ● Course language ● Course fees ● Registration and payment ● Arrival and departure
● What to bring ● The first day of the retreat ● The retreat center ● Budget accommodation
Take a guided video tour of Halvorsbøle
Infection prevention
● Halvorsbøle follows NHO's guidelines for safe service and safe accomodation. 
Course language
● The official language is English.
● On some international retreats, guidance groups and simultaneous translation in other languages will be provided when needed. See each retreat for details.
Course fees
● The course fee includes full board and ensuite accommodation in a single room. Bed linen and towels are included.
● Student discount is only available to full-time students. Student ID must be shown upon arrival. If the course is fully booked, student discount may entail accommodation in a double room. Full-time students aged 30 years or less may apply for a student scholarship.
● If a registration is cancelled due to covid-related issues, the course fee (not travel expenses) will be refunded in full. If a registration is cancelled for other reasons 14 days or more before the retreat, the course fee will be refunded minus an administration fee of NOK 600. If a reservation is cancelled less than 14 days before the retreat, the course fee is not refundable. As
a protection against unforeseen circumstances, you are strongly advised to obtain suitable travel insurance and to buy refundable tickets.
Registration and payment
● The course fee must be paid in full before the registration deadline.
● You pay by clicking the "Registration and payment" button on the retreat webpage and use your own credit card or PayPal account.
● You may also transmit the fee to Acem's bank account by using swift:
SWIFT/BIC: NDEANOKK
IBAN NO: NO8060260497238
Recipient: Acem, Pb 2559 Solli, NO-0202 Oslo, Norway
Bank: Nordea Bank Norge ASA, Pb 1166 Sentrum, NO-0107 Oslo, Norway
Please include the following information: course number and name of participant(s)
Your registration will be valid upon receipt of your payment.
Arrival and departure
● From Oslo city: Take bus 200 (Brakar) from Oslo bussterminal to Hønefoss, then taxi to Halvorsbøle.
● Alternatively, go by train R10, R11 or F2 to Sandvika, walk to the bus station (4 min.), take bus 200 (Brakar) to Hønefoss, then taxi to Halvorsbøle.
 
- TAXI
Please sign up by adding info in the comment field when you register for the retreat, or by contacting Acem no later than two weeks before the retreat begins.
● Shared taxi from Gardermoen at 16:45 (12:00 for the communication course) costs NOK 500,- one way.
● From Hønefoss: Shared taxi leaves from Hønefoss rutebilstasjon at 17:20 (12:20 for the communication course) and costs NOK 165,-.
 
● If you arrive by car, first drive to Jevnaker, then west of Jevnaker take road 245 towards Bjoneroa. After ca. 11 km turn left at the sign for Halvorsbøle.
Outside rush hours, it takes up to 1 1/2 hours to drive from Oslo to Jevnaker: Take E18 westwards to Sandvika, then E16 towards Hønefoss until you see signs for Jevnaker.
During rush hours, take road 4 northwards to Roa and then turn left onto E16 towards Hønefoss until you arrive at Jevnaker.
From Gardermoen to Jevnaker, take E16 towards Hønefoss until you arrive at Jevnaker.
● Charging electric cars at the lower parking space costs NOK 175; please contact the reception.
What to bring
● Indoor clothes and shoes/slippers
● Shoes and clothes for outdoor walks, including warm clothes and rain gear (Halvorsbøle is situated on the lake Randsfjord and surrounded by a pleasant terrain for walking)
● Comfortable clothes for the basic yoga instruction arranged during the retreat
● A swimsuit if you like to take a swim (though the water may be chilly even in the summer)
● The book Practical Guide to Acem Retreats, which provides useful information for the practice of long meditations at retreats
● The book Meditative Yoga, which will be useful both for experienced and less experienced yoga practitioners (during the retreat, daily practice of yoga is recommended, at deepening retreats preferably two half hours a day)
● Both books are available online or can be bought at the retreat centre
● Abstaining from coffee 2-3 days before the retreat may make the transition to the rhythm of the retreat easier.
The first day of the retreat
● Check-in at the retreat center starts at 4 pm.
● Dinner is served at 7 pm.
● Introductory meeting, guidance groups etc. start at 8 pm.
The retreat centre
● Halvorsbøle is a non-smoking area and an alcohol-free retreat centre.
● All meals are lacto-vegetarian. 
● Rooms have hair-dryers.
● Free wi-fi will usually be available.
● Payment for shared transport, books, etc. may be done by credit card.
● Address: Acem International Retreat Centre Halvorsbøle, NO-3520 Jevnaker, Norway.
Budget accommodation in Oslo
Cochs Pensjonat
Anker Hotel
Haraldsheim Youth Hostel
Budget accommodation near Gardermoen Airport
Thon Hotel Gardermoen