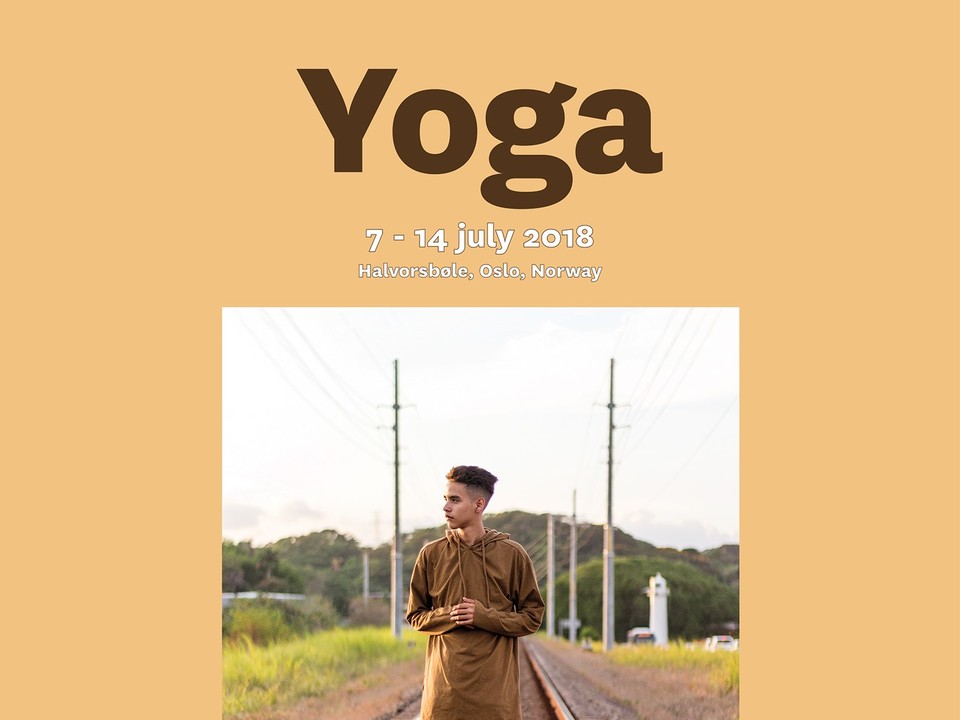 International One Week Yoga Retreat July 7 to 14, 2018
Course starts
Saturday 07 July 2018, 16:00
Course ends
Saturday 14 July 2018, 14:00
A journey in Body and Mind - 50 years with yoga
Acem School of Yoga (Norsk Yoga-skole) will celebrate 50 years of yoga in the first international yoga retreat at Halvorsbøle International Retreat Centre in Norway.
Everyone can participate: beginners are as welcome as experienced yoga practitioners. For the first time, yoga instruction will be given in several languages: you will have the opportunity to attend yoga classes in English, Spanish, German, Mandarin and Norwegian.
The international yoga retreat will be a journey into your body and mind - maybe something quite new, compared to your previous experiences. And even better: everyone can be relaxed about their body and feel comfortable - just like it is, not matter how fit you are. We will enjoy our bodies with whatever shape they have and whatever you may think of your body. We can promise you one week with joy, laughter and hard work.
Welcome to the first international yoga retreat - which may give you a new way of looking at yourself.
To do yoga is to train your free mental attitude by working with breath, bodily movement and bodily awareness. The breathing is the most vital part of the emotional expressions of your body. A free-flowing breathing during your yoga movements is like applying a free mental attitude to the repetition of your meditation sound in Acem Meditation. You teach yourself not to be forced by inner "achievement ghosts", not to strive where you need not strive.
Yoga is a way of exploring and training your human attitudes and your compassion, through a direct encounter with the way you treat your own body.
Yoga is about becoming more flexible, lighter and happier. It provides you with relaxation and deepening similar to a meditation practice. You come closer to yourself, and your body, mind and strengths are coming more in harmony with each other.
We recommend you buy and bring the book Meditative Yoga - integrating body, breath and mind - or you can buy it on the course.
A two week super retreat: If you practice Acem Meditation and have some experience with week long meditation retreat, be aware that you may stay for one more week at Halvorsbøle by registering for the One Week International Deepening Retreat from July 14 to July 21. The retreat is lead by the founder of Acem and Acem School of Yoga, Dr. Are Holen. After having spent a week with yoga practice, you will have the best possible starting point for entering into a period with long meditations - a combination with a potential for profound effects on your daily life and your practice of meditation and yoga.
Course starts
Saturday 07 July 2018, 16:00
Course ends
Saturday 14 July 2018, 14:00
Finished
IMPORTANT PRACTICAL INFORMATION
(opens in a new window)
Early Bird price before 1 June does only apply to non-scandinavians.
The retreat is being arranged in co-operation with
Acem School of Yoga
.
Languages available: Instruction in English, German, Spanish and Mandarin (depending of no. of participants), as well as Norwegian, will be available.
Payment and registration: Apart from using the ordinary button function on top of this page, it is also possible to register and pay manually. Please click "important practical information" above for further instructions.
Course type: One WeekYoga Retreat
The course is arranged by Acem International School of Meditation
Course number: V18302
Instructors