International Deepening Retreat in Acem Meditation
Course type: Deepening Retreats
A deepening retreat offers the possibility to experience the full effect of Acem Meditation, leading to essential changes in your meditative process and in everyday life.

Registration
Course starts

Saturday 25 July 2015, 18:00

Course ends

Saturday 01 August 2015, 14:00

Location

Course number

V15305
Finished
A deepening retreat is suitable for Acem meditators who already have some experience with long meditations and who want to practise meditations of more than six hours.
Long meditations
A deepening retreat gives you an opportunity for daily long meditations of at least six hours. The retreat will focus on how to enhance your meditation. All activity under the course of the day is designed to stimulate the deeper meditative process.
Guidance groups
The long hours of silence are followed by daily process-oriented guidance groups led by experienced meditation guides, in order to maximise the results of long meditations.
Seminars
Questions arising from performing long meditations, along with meditative and existential topics will be covered in the evening seminars.
Walk and talk
There will be ample time for walks in the beautiful surrounding areas. Some of the walking time is combined with one-on-one discussions of themes and issues from your meditation.
Yoga
Daily sessions of basic Acem Yoga have a refreshing effect and facilitate the practice of long meditations.
Typical daily programme
0730 - 0830: Breakfast, exercise
0830 - 1600: Silence for meditation
1600 - 1630: Yoga
1630 - 1700: Pause
1700 - 1900: Process guidance
1900 - 2000: Dinner
2000 - 2130: Seminar
Who may participate?
Deepening retreats are for regular meditators who already have experience from regular weeklong Acem Meditation retreats and who are prepared to participate in the entire retreat.
The venue
Acem International Retreat Centre at Halvorsbøle is situated outside Oslo in beautiful and peaceful surroundings. Most of the rooms have a direct view of the Randsfjord lake.
Other retreats
A Young Retreat, an International Regular Summer Retreat and other International Deepening Retreats take place each year. See the dates on our calendar.
For people with ample experience from deepening retreats, Acem also arranges advanced deepening retreats.
The course is arranged by Acem International School of Meditation
Information
IMPORTANT PRACTICAL INFORMATION
(opens in a new window)


Course language
The official course language is English, with simultaneous translation and guidance groups in German and Spanish when needed.

Early bird fee deadline
1 June 2015
The early bird fee is only available for participants residing outside Scandinavia.

Cancellation deadline
10 July 2015.
Instructors
Rolf Brandrud
(1950 - 2020) Rolf was an Acem Meditation Initiator, and had 30 years background as journalist and editor in Norway's national public service broadcaster NRK.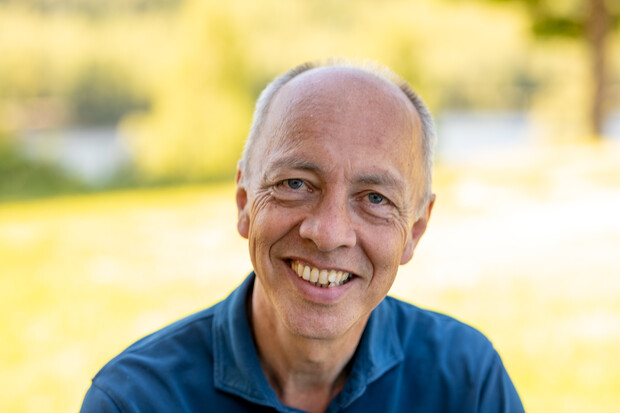 Halvor Eifring
General Secretary of Acem International. Professor of Chinese, University of Oslo.